For Artist Dan Lee, his mission in painting isn't just about recording a personal vision, it's about sparking a vision in others. the creative energy needed for this mission is fueled by a constant love, reverence, and appreciation of "how the light affects everything and how everything affects the light." the portraits, landscapes and images Dan paints convey this life-enhancement philosophy and possesses that very special light. . . the light from within.
---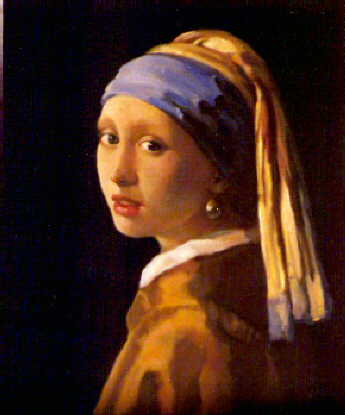 "Ode to Vermeer"
oil on canvas

Click Here for example prices.
---

"Swift Creek Terrace"
oil on canvas


"Welcome Home"
oil on canvas
Beyond his formal education consisting of two years at Louisburg College (NC) and two years in the BFA painting program at St. Cloud State University (MN), Dan considers all his experiences and many miles traveled, both abroad and in the U.S., as part of his art education, but the high point of the learning came in 1982. While in Virginia, Dan had the good fortune of serving an apprenticeship with master portrait painter Nick Hufford, an affiliate artist of Portraits, Inc. of New York. Hufford apprenticed in his early career with the great illustrator, Haddon Sundblom, of Coca-Cola & Quaker Oats advertising art fame. Dan believes, "Although both Sundblom and Hufford are gone now, I feel I carry on, within, something very special. . . A very special light."
---

"Darling of Light" (charcoal)


"Becky's Pride" (charcoal)


"Little Ivy Leaguer"
(charcoal)
Dan Lives to paint and paints to live in his native hometown of Four Oaks, NC.
Submit inquiries to Dan Lee, Artist
P.O. Box 156, Four Oaks, NC 27524
Phone: (919) 963-2762
or email me.
---

"Boykin Spaniel" (charcoal)


"White Pomeranian" (charcoal)


"The Calling" (oil on canvas)


"Olivia" (charcoal)


"Nick Hufford" (charcoal)


"A Summer Place" (oil on canvas)


"Persimmon Shade" (pastel)


"Lavender Blooms" (oil)
Collection: NC Senator Allen Wellons


"Mother with Child" (oil on canvas)


"Bantams 3, Wyandottes 2" (oil on canvas)
collection: the artist


"Tribute" (oil on canvas)
---

View My Stats

Links: Doug Strickland, Artist / NC Arts Council / Return to top